Resident story: Luul Steps Up
Housing Choices WA resident Luul is passionate about amplifying migrant voices in the community and, the mother of seven, is leading by example as the WA Advisory Committee of Tenants Secretary.
Luul was born in the African country of Somalia before moving with her family to New Zealand as a refugee when she was eight. In 2003 she migrated to Australia where she met her husband, Ali. The pair began renting a two-bedroom private property but, over the years, the family grew – and so did the need for more space.
Moving into a four-bedroom private house, Luul lived with the fear of eviction.
"We couldn't find housing when you have seven children … people have assumptions of properties being damaged," she said.
"They only focus on how many kids you have … even though we are both average income earners, it was still very, very difficult to get a house."
Luul was working in early childhood and Ali in construction, but they struggled to find a suitable home in their price range. They enquired with the WA Housing Authority and were placed on the waitlist for community housing.
After five years, the family of nine moved into their Housing Choices WA home.
Luul said her six daughters, Faduma (15), Zainab (14), Riyana (13), Ruqiya (11), Zahra (6), Safia (3) and one son, Mohamed (8), had been thriving with more room to move.
"They all play together, and my son especially loves soccer, so we all play that," she said.
"The kids all have chores: One tidies the shoes, one does the rooms, they help with cooking, and we change the schedule monthly.
"It's generally a pretty chilled household but every day is different. Sometimes it's quiet and sometimes it's noisy."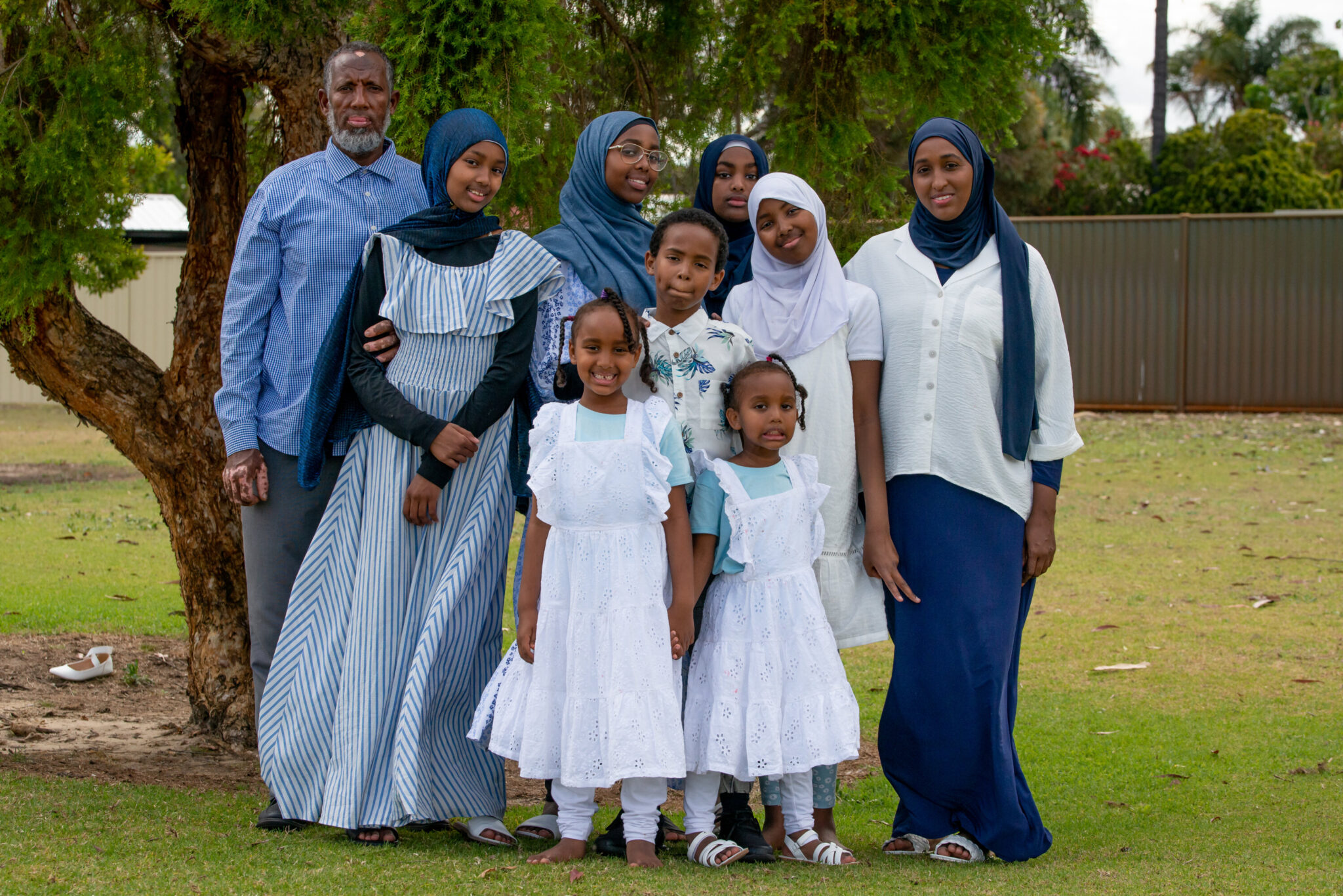 After connecting with Housing Choices, Luul joined the WA Advisory Committee of Tenants (ACT). The committee represents the State's diverse residents and their needs, covering broad issues that affect residents through bi-monthly meetings. The committee also aims to encourage community development through programs and initiatives. Recently Luul was made WA ACT Secretary.
"I didn't know about the ACT until one of the Tenancy Officers asked me to apply," she said.
"The ACT is wonderful, and I'd like to thank them … throughout the year we bond as a family. It's about family and values and that's what Housing Choices is all about."
Luul's own involvement in the committee has not only focused on providing meeting minutes as Secretary. She also sought to reduce barriers for culturally and linguistically diverse peoples by ensuring interpreting systems were available to residents wherever possible and that simple language was used in committee projects.
Luul's passion for growing community connection stems from the tragic loss of her three-year-old brother, Maud, who died in the 2019 Christchurch New Zealand Mosque terrorist attack. The devastating event became the catalyst for Luul to get more deeply involved in her community.
"I realised that I needed to step up," she said.
"I wanted to be a positive change, because when something happens you can go out there with fear or you can try to change whatever you can – and that's what I've been doing.
"I've been around for 18 years in WA, and I was afraid to be out. I was afraid to get outside my house. It's about taking a risk and thinking: 'Hey, we all need to be here, we all need to work together.' And that's what I've done."
She said being an active ACT member was just one of the ways she was trying to make an impact on her local community since her brother's death and that she had also thrown herself into volunteering for a range of other organisations.
"I hope to inspire other tenants to get involved in the ACT. I think I'm the only African or immigrant ACT member in my area and getting those voices heard is vital and important to what the ACT needs," she said.
"Having multicultural advocacy in the ACT is important as it offers a broader range of opportunities and services. We're all different and we all live in different ways but having that voice is the key to changing things.
"I used to be too afraid to even be outside with others and now I'm like: 'I'm here.'"