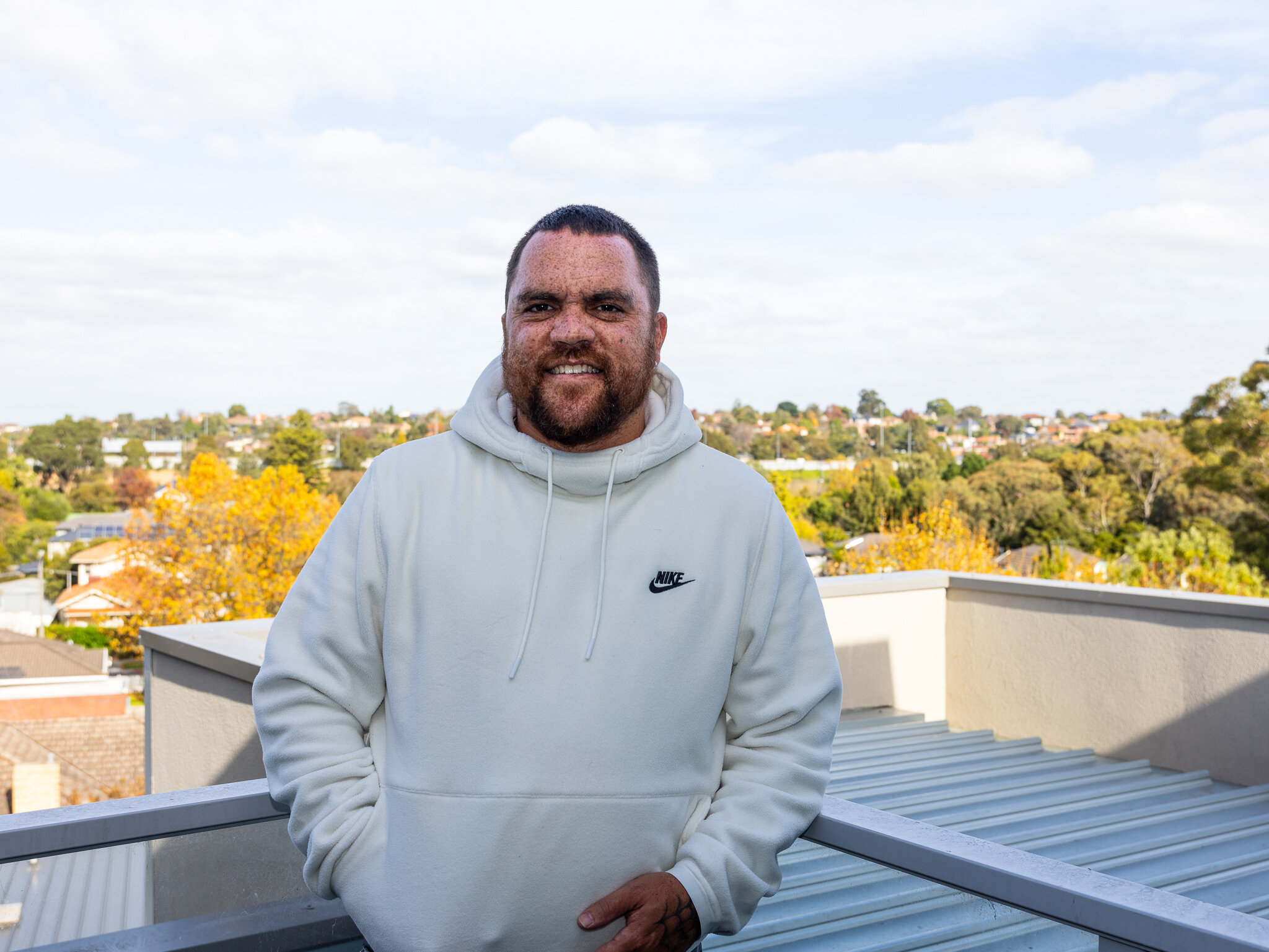 Resident story: James Kicks a Home Goal
Working as a job advocate and mentor for First Nations people, supporting the local footy team and cooking at home are activities James could barely conceive of a couple of years ago when he was struggling with substance abuse and jumping between hospitals, jail and insecure accommodation.
James was among more than 2000 rough sleepers in Victoria who participated in the Homelessness to a Home (H2H) program which relocated people from the streets during the COVID lockdown in 2020 and placed them into long-term housing with wrap-around support services, including case management, mental health support, and drug and alcohol counselling.
James said of the H2H initiative: "It's kept me out of hospitals. It's kept me drug-free. It's kept me employed. It's given me support in regards to family lawyers, connected me up with NDIS. It's been a big change."
Housing Choices Australia was one of the community housing providers working with the State Government to accommodate vulnerable people, some of whom had spent years without a stable home.
The Gunditjamara/Yorta Yorta/Wiradjuri/Gunai man is now living a very different life in his Housing Choices apartment in Melbourne's inner north.
James said having a permanent home not only gave him license to decorate the space – which is dotted with family photos and certificates of his achievements – but provided him with enough stability to start afresh: "I go to the local football club and volunteer as a water runner, and I go to church and Aboriginal meeting places in the inner-city metro area.
"I've also started cooking – but cooking for one person is hard. I have a menu book I'm working through, and I just got a slow cooker so it's lots of stews.
His housing officer, Vanessa, said James's story illustrated how effective the H2H program had been, giving people a chance as well as support: "James is a wonderful tenant. He looks after his place so well and is really house-proud.
"I think it's been the support of both the housing officer and support agency complimenting each other really which has meant not only James but the program has done a great job in maintaining successful tenancies."
Neami National AOD Senior Case Manager Sonia Anderson agreed: "From everything that was an issue and was compounding and forcing him (James) into homelessness has now, with stable accommodation, given him the opportunity to integrate back into community successfully and also give back to the community.
"He's taken onboard everything we've offered him, made his house a home and was able to restart his life."