Resident story
At home in QVM: Nanette one year on
Sitting on her new QVM apartment balcony, surrounded by greenery and birds, in the heart of Melbourne's CBD, Housing Choices resident Nanette is content.
It's been one year since she and her husband moved into their one-bedroom apartment, during which time, the large outdoor space overlooking the city has become their private oasis.
"In summer we spend all evening out on the balcony, watching the bats fly over. You have a lot of nature around even though you're in the city," Nanette said.
"I love just being able to step outside. I've lived in places where you have no outside and you have to be indoors all the time.
"The place I had during the pandemic was very dark – and this is very light. You can open windows and doors and let the air in. I had one window at my last place."
Nanette is one of 48 residents who are benefiting from the Six Degree Architects designed affordable apartments, which incorporate raw materials and strong sustainability elements.
She said the apartment's north-facing triple-glazed windows allowed an abundance of sunlight to stream into the lounge room and open-plan kitchen, keeping the living spaces warm in winter and cool in summer, while solar panels helped keep the electricity bills down, despite rising living costs across the country.
Built on the traditional lands of the Wurundjeri Woi Wurrung and Bunurong Boon Wurrung peoples of the Eastern Kulin, the building features striking exterior artwork by local artist Rose Nolan, which was commissioned by the City of Melbourne.
The words 'now', 'more', 'enough' and 'so' are designed on the exterior screen's façade in red and white, in a move that is not only visually bold but helps control solar heat gain and loss, a requirement for the building's green star rating.
From the bustling Queen Victoria Market across the road, the apartments are striking.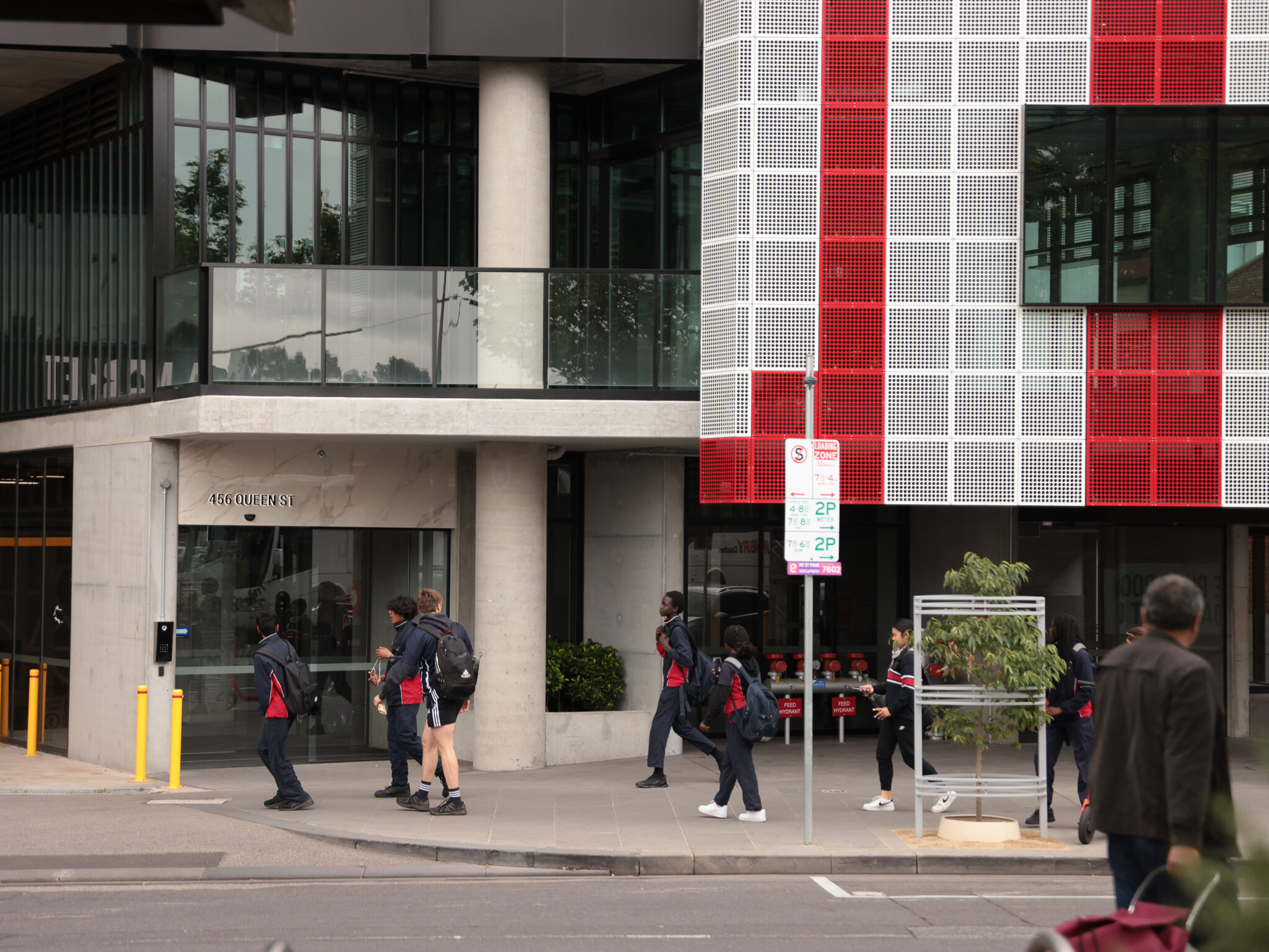 Nanette said the location was also incredibly convenient and had changed the way she and her husband lived. The pair had sold their car and were taking advantage of the fresh fruit and vegetables at their doorstep and plethora of public transport nearby.
"I got rid of my car when I moved here and I've never driven again," she said.
"You save so much money. I like the concept of public transport. It's less wastage and better for the environment, which I am conscious of."
Previously, the pair lived in a run-down apartment in St Kilda for 13 years.
"It was absolutely freezing," Nanette said.
"My bills were more in winter than now and that was all those years ago. There was no heating. We used to put an oil heater and a fan heater, and you'd have to run two in one room. And all of the cold would just come straight through. If you turned the heater off it got cold just like that, it didn't retain it, even if you had everything closed."
Before moving into their QVM apartment in 2021, Nanette was gearing up to retire after 33 years working in the public service but, she said, near stagnant wage increases combined with the growing cost of living had made it difficult to plan for the future.
"My husband hasn't been able to work for a long time, so we lived on my wage for a long time, which was one of the reasons I was concerned about paying rent when I retired," she said.
"I could manage it before, but I thought I needed to look. That's when I realised I was eligible for social housing. I'd seen information about people going into community housing and I'd checked a few years before and I was just over the eligibility amount. I hadn't checked for about 5 years, and when I checked again it was like 'I'm way in it'."
Now retired, Nanette has taken to exploring Melbourne's CBD and photographing the city on her phone before returning to the workspace in her apartment to edit and upload the images to her growing Instagram account.
"I like it when I come across something new, or sometimes I'll see something that's always been there, and I never saw in that way," she said.