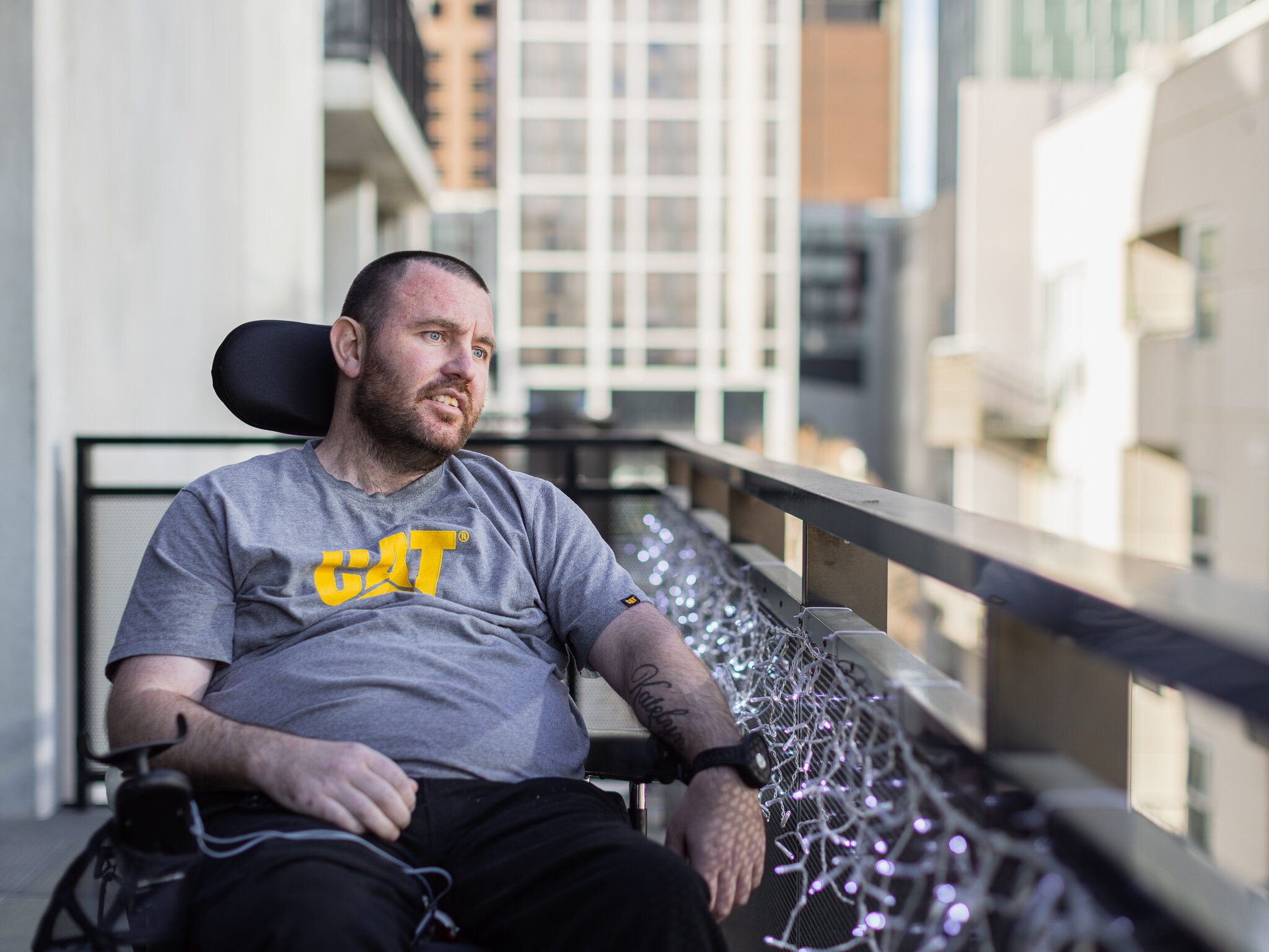 QVM is the place for Chris
Moving from an outer suburb in Melbourne into the heart of the city for the first time was a transition Housing Choices resident Chris was excited to make.
After a car accident left the 34-year-old father of two in a wheelchair, Chris's former three-bedroom rental property was no longer appropriate, and he required Specialist Disability Accommodation (SDA) where he could easily access his supports.
When Chris found an SDA home at Housing Choices Queen Victoria Market residential development he was sold.
"I had a few choices for places, one was in Melton and one in Werribee, but none of them were like this," he said.
"From this place I can do anything I want and get anything I want. I have more choice and more variety here.
"It was also super easy to get along with Housing Choices and I connected with Adrian (Housing Choices SDA Participant Engagement Specialist) straight away and built a relationship straight away."
Chris said while he was initially unsure whether city living would be right for him, the location was better than he could imagine.
"You've got the Queen Victorian Market just outside and supermarkets around the corner, you name it we've got it," he said.
"It's not too big or too small, it's really good for just me. There are amazing views, you come out on the balcony and look over the city and it's beautiful.
"It's been absolutely amazing … I wouldn't look back."
Chris is among the many residents who are benefiting from the Six Degree Architects designed apartments, which incorporate raw materials and strong sustainability elements.
With an open-plan kitchen and lounge room flowing seamlessly into a generous balcony overlooking the city, as well as neighbours who are "super friendly and nice and up for a chat" Chris said he was set for the long-haul.
"It's super easy to get around in my wheelchair, especially with the automated doors which just open … The way it's been designed is just perfect," he said.
"I have a spinal cord injury … my work Ute rolled in Arrarat three times at 100kms an hour. I wasn't wearing a seatbelt and was ejected out of the vehicle and it landed on top of me. I broke my back and was put in an induced coma and spent eight months in hospital.
"Two to three times a week I go to Mount Waverly to a rehab place, which is absolutely awesome. They're the best. They push and push me till I can do any more and they've helped me stand and move my arms more.
"From my building I just go by taxi to my physio. It's just onto the freeway and that's it. It's super easy."