Resident story: Irene's new family
Although the oldest resident in her building, Irene's cheeky sense of humour and strong-willed independence leave people shocked to learn she's the sprightly age of 94.
Her Preston unit is homely and filled with life. Irene's balcony is brimming with lush greenery and cute figurines and sculptures. The longer you look, the more and more cheeky bits and bobs are revealed; showing off Irene's playfulness.
Irene was born in Blackburn, and has lived all across Melbourne, with her longest stint being 50 years living in Heidelberg at a housing commission home which she then went on to purchase. After her children were grown, Irene sold her house and built herself a granny flat at the back of her youngest daughter's property in Preston.
Following the breakdown of her daughter's marriage, Irene's ex son-in-law sold the property which Irene's unit was at the back of, and Irene found herself without a home.
"Things went from worse to worse. He sold the house and sold my unit and left me with nothing. So it was very stressful at that particular time."
Homeless at 89, Irene was linked up with Housing Choices through her support services.
"I came here and the nicest people are here, they are just wonderful," says Irene.
"I've got a new family here."
The past year has also been challenging for Irene due to some complications with her health.
"I was down at that time. I've had bowel cancer, which was stage four and I've lost mostly all the big bowel. And then just this year, I've had my hand done a couple times. And I had cancer in my face taken out and also had my leg operated on. So I was pretty down," she says.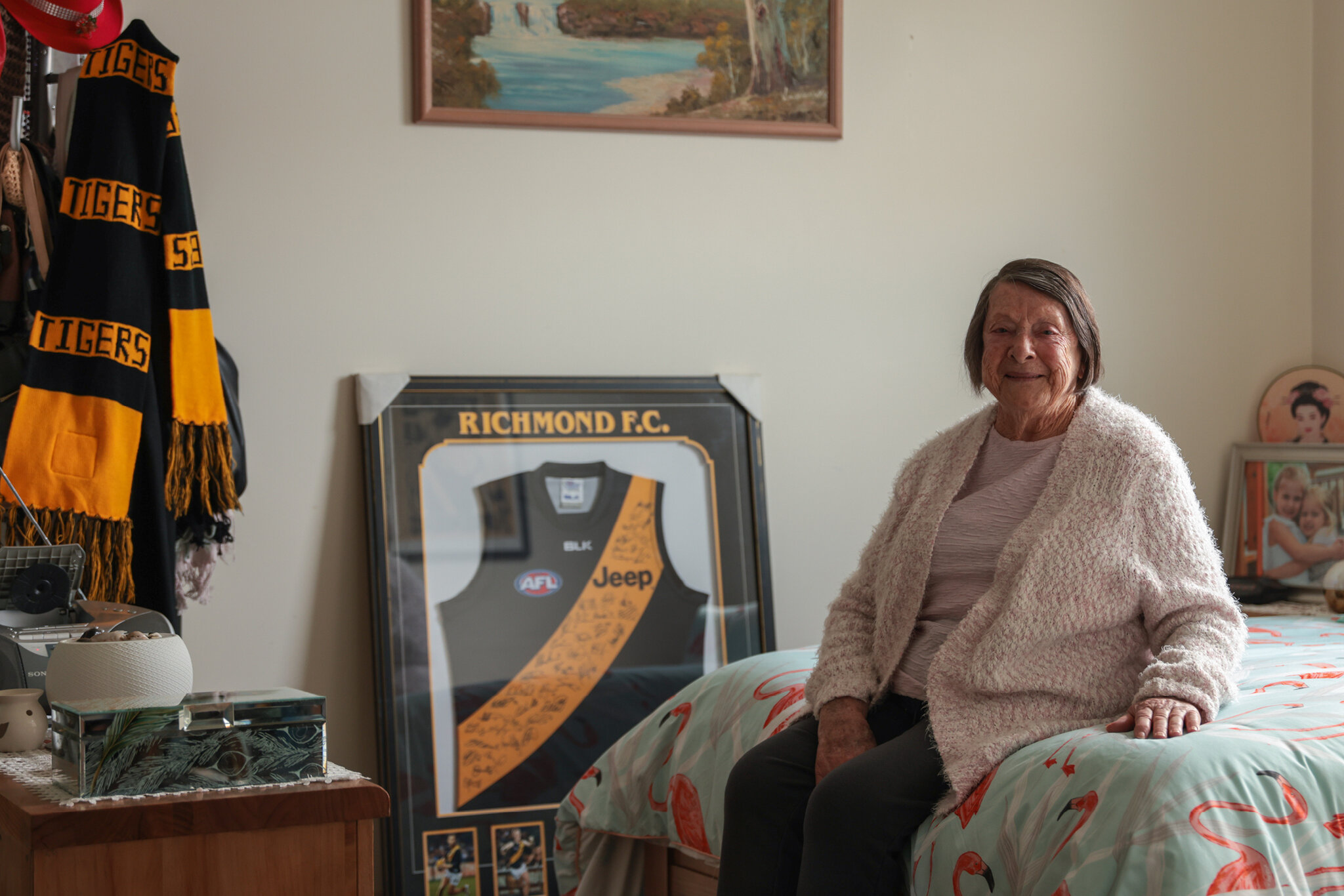 To lift Irene's spirits, the Preston Housing Team organised a surprise for Irene.
Irene is an avid Richmond Football Club supporter and her apartment is emblazoned with Richmond FC memorabilia.
One Sunday, Francis Bourke, an iconic former Richmond footballer who played in the 60s to 80s, knocked on Irene's door and paid her a visit.
"They said to me, are you going to be home on a certain day…as soon as he walked in the door I recognised him," says Irene.
"They did it as a surprise because they knew how upset I was. And it was really lovely…he was here for about an hour, chatting."
There are other ways the Housing Team go above and beyond for Irene. Because of her health issues and surgeries she's had on her hand, she struggles to get the gas stove working.
"They've decided to give me a new oven. Electric instead of gas, which will be easier for me. If they don't do it, they don't get cakes, so it's on them," Irene says mischievously.
Irene has also formed lasting friendships in the building.
"I have a beautiful neighbour across from me, Bonnie, she's a New Zealander. She takes me to bingo up at Epping," she says.
"At Christmas time we had a Christmas party here and it was rather great. But you know, when you get to my age, people think you don't need company. But you do, I go downstairs (to the Preston Hub office) and I get on really well with the girls down the corridor," Irene says.
Also a member of the Darebin RSL, Irene frequently pops down for a meal or to participate in the monthly raffle.
"My birthday was a couple of months ago on 26 September. The girls from the club wrote me a lovely letter. They told me they were proud to have me as their friend," she says.
Irene is an integral part of both the Preston Hub building and the wider Preston community, and the organisation feels lucky that Irene has found home with Housing Choices.
"I think for all the heartache and trouble, I've come home. I can do what I like, I can say what I like, I can go where I like, and I don't have to report to anyone."