Complaints
We believe people have a right to complain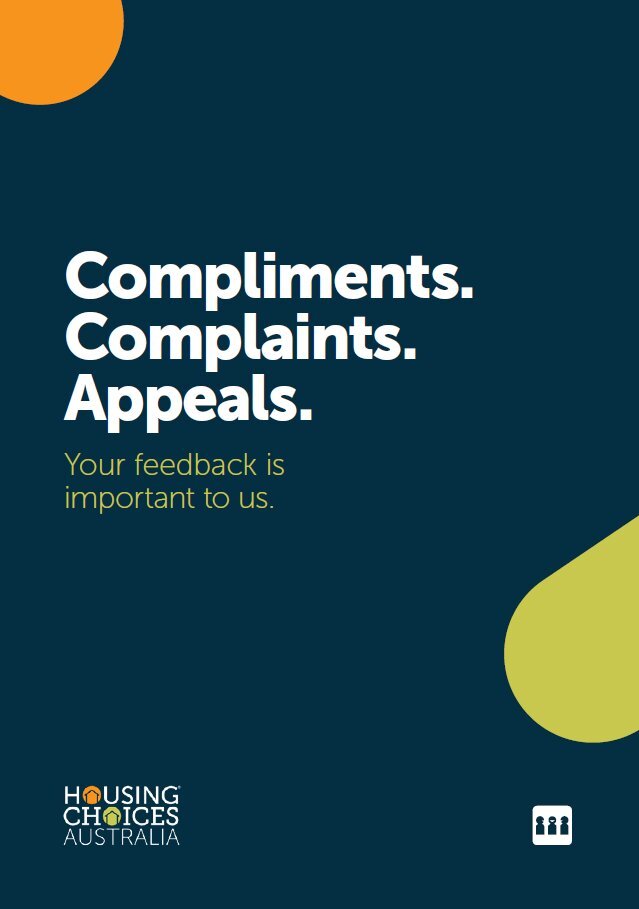 We commit to
Responding to complaints and appeals in a timely and fair way
Making our complaint handling and resolution process available to everyone
Taking all reasonable steps to investigate and resolve complaints within 30 days
Complaints and appeals can be made in the following ways:
In person
Via a representative or advocate
In writing (our complaint form is available below to help describe your complaint)
By email complaints@hcau.org.au
By telephone
Giving Feedback
When something is starting to go wrong, we encourage you to tell us so we can fix the issue as soon as possible.
You do not need to try this option before making a formal complaint.
You do not lose your opportunity to make a formal complaint if you choose to speak to us informally first.
Safe Environment
We provide a safe environment to all residents and people including
Young people and children
People with disabilities
Aboriginal and Torres Strait Islander peoples
People from culturally diverse backgrounds; and
The advocates and representatives of all the above
External Complaint Options
Tenancy laws and dispute resolution in each state are managed by different bodies. Australia's various residential tenancies authorities enforce their individual region's Tenancy Act on behalf of their state or territory government. The organisations responsible for the administration of a Residential Tenancy Act are:
• ACT Civil & Administrative Tribunal (ACAT)
• NSW Civil & Administrative Tribunal (NCAT)
• Northern Territory Consumer Affairs and the Northern Territory Department of the Attorney-General and Justice
• Queensland Residential Tenancies Authority
• South Australia Civil and Administrative Tribunal (SACAT)
• Tasmania Consumer, Building and Occupational Services
• Victoria Civil and Administrative Tribunal (VCAT)
• Western Australia Department of Mines, Industry Regulation and Safety and the Western Australian Magistrates Court. Strata tenants coming under the Strata Titles Act 1985 and the Strata Titles General Regulations 2019 can have disputes heard in the Western Australian State Administrative Tribunal (SAT)
Complaints
HCA is registered under the National Regulatory System for Community Housing (NRSCH). NRSCH investigates complaints that raise concerns about a registered community housing provider's compliance with the regulatory code. Click here to access the NRSCH in the Australian Capital Territory, New South Wales, Northern Territory, Queensland, South Australia and Tasmania.
In Victoria, the Registrar of Housing Agencies is the body responsible for regulatory system for non-government rental housing agencies. Please click here for further information.
In Western Australia, the regulation of community housing providers is undertaken by the Department of Communities, Community Housing Registration Office (CHRO) by way of the Community Housing Regulatory Framework (WA Framework). Please click here for further information on the Framework. HCWA is also an accredited mental health service provider. The WA Health and Disability Services Complaints Office ((HaDSCO) offers an impartial resolution services for complaints relating to health, disability and mental health services in WA.
The NDIS Quality and Safeguards Commission is an independent agency established to improve the quality and safety of NDIS supports and services. They are responsible for regulating NDIS providers. If a complaint relates to specialist disability accommodation provided by the HCA Group, you can make a complaint directly to the NDIS Quality and Safeguards Commission. Please click here for further information.