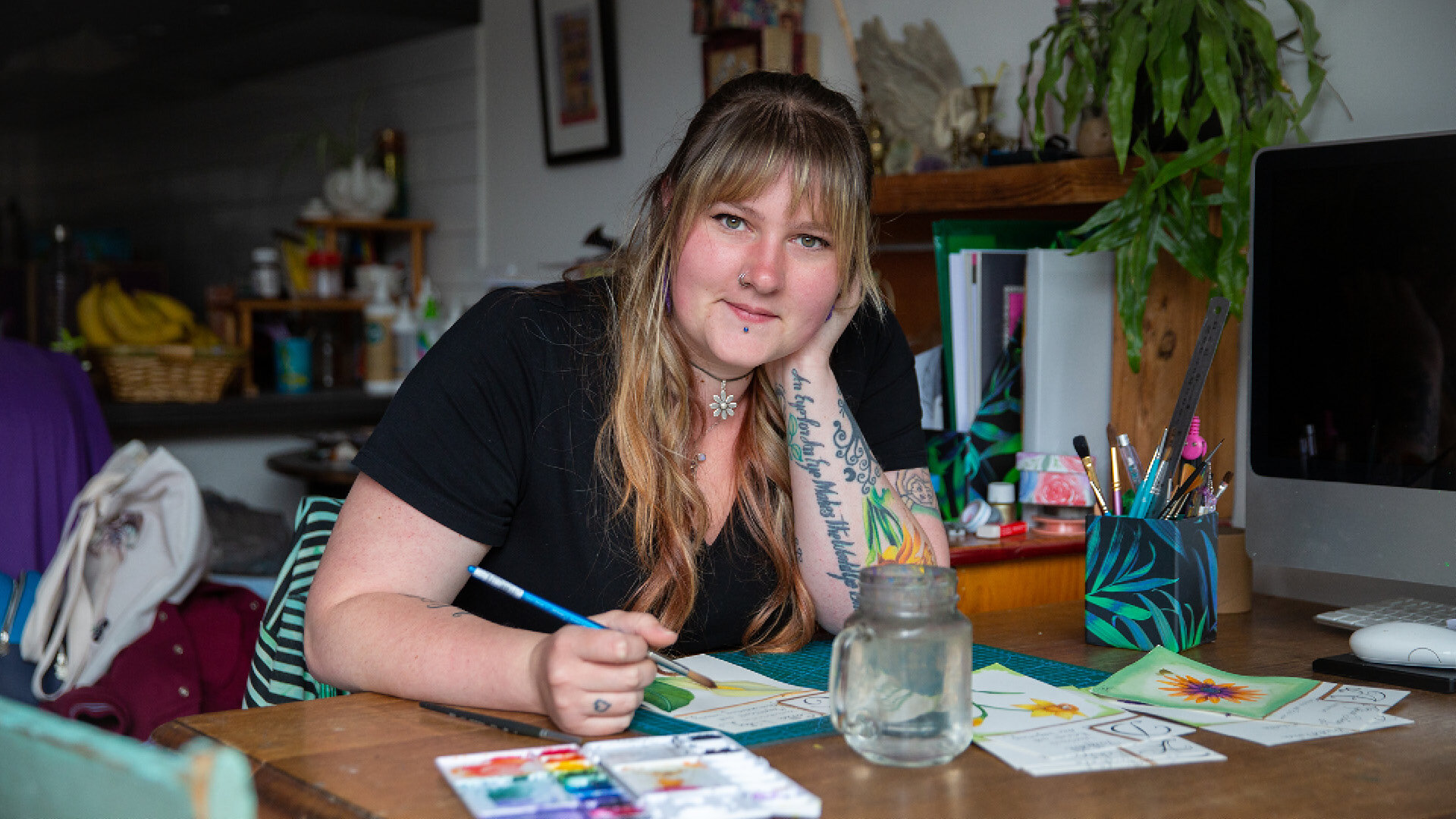 Resident story: Samantha's artistic freedom
Sam, her partner and their daughter Amber were living in the middle of the forest when they were notified about a Housing Choices property in Wantirna that became available.
"We moved in here two weeks before the first lockdown last year. We were living in Cockatoo up in the hills where I grew up, so it's been a pretty massive change moving to suburbia," Sam said.
Sam's partner is on a permanent disability pension and was on the social housing waitlist for 13 years when they were offered the Wantirna property. While it was quite a transition moving to the suburbs, Sam said it was the right choice for her family.
"I've never ever seen Christmas lights like what I saw here – people don't do it as much in Cockatoo," Sam said. "We took Amber and went for a huge walk. We walked for about three hours around the entire estate and saw all the Christmas lights. It was amazing!"
Sam said there are benefits to living in Community Housing that are absent in the private rental market.
"It's good to have someone I can call if there's something wrong. It's also nice having four playgrounds in the estate, which are all a close distance from home," she said.
"It's a nice weight off our shoulders, being here, knowing we probably won't have to move again."
Even though the majority of Sam's tenancy with Housing Choices has been through COVID-19 lockdowns, Sam has already started sharing her artistic creations with the Housing Choices community through the annual 'Home is Where the Art is' competition.
Her Housing Officer, Sam Best, referred Sam to the art competition when she and her partner came in for their first interview.
"We had a look at some of the art in the office while in Melbourne and that was exciting to look forward to and work towards," Sam said.
In 2020, Sam won first prize in the art competition for her mixed media piece under the theme 'Connecting Communities.' This year, both Sam and her partner entered pieces into the competition, with this year's theme being 'Freedom'. Sam was awarded first prize in the fine arts category for her watercolour piece, 'Fly to Freedom,' and her partner won third place in the mindful expression category.
"I've never won anything before in my life!" she said.
Sam used her prize voucher to purchase new paints and high-quality watercolour paper, which she said she wouldn't normally be able to afford. With her new materials, she continues building her skills and producing more amazing creations.
"I think the art competition gives people something to look forward to," Sam said.
"There's a lot of creative people out there but, sometimes, they just have trouble getting started. This is a great way because it makes you think 'oh I've got this competition to create for.